Burnet (pronounced "burn it") is a popular tourist town located approximately 60 miles northwest of Austin, Texas on Highways 29 and 281. Burnet is only a short drive from Lake Buchanan, Inks Lake and Lake LBJ, three of the lakes on the Highland Lakes chain of lakes created by man-made dams. Burnet is the County Seat of Burnet County in central Texas. Both the city and the county were named for David Gouverneur Burnet, the first (provisional) president of the Republic of Texas.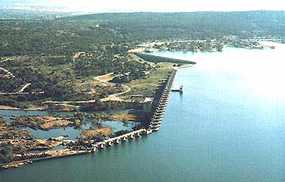 Buchanan Dam photo courtesy of L.C.R.A.
The Highland Lakes area of the central Texas Hill Country is a well know area for recreational activities such as birdwatching, jet skiing, golf, boating, fishing, camping and sightseeing. It is also listed in the top three areas of the country as a retirement area. The climate is moderate in the winter and it almost never snows in Burnet.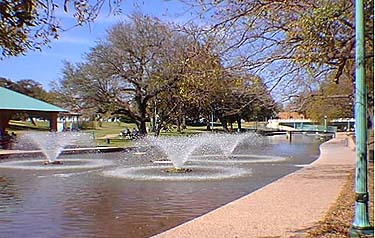 Hamilton Creek Park near downtown Burnet
Hamilton Creek Park, part of the Burnet Riverwalk, is a beautifully designed and landscaped area along the creek where you can go for a walk, have a picnic or just sit and enjoy the scenery and people. It is very attractive with the walkway, the plants, bridges, etc. You will enjoy this peaceful area! It is within walking distance of the downtown square.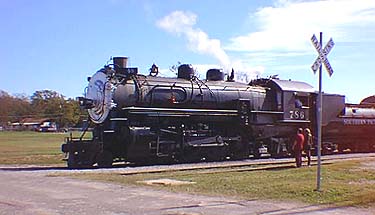 Hill Country Flyer
The Hill Country Flyer is a train that makes regular weekend runs from Cedar Park to Burnet to take tourists out to shop at the antique and gift stores in Burnet, to dine in the local resaturants and and to enjoy Hamilton Creek Park. Call 512-477-8468 for more information. To go to the Hill Country Flyer Web Page Click here.


Highland Lakes Squadron - Commemorative Air Force
Check out the Highland Lakes Squadron - Commemorative Air Force at Kate Craddock Field Airport, Burnet, Texas; Call 512-756-2226 for more information. To go to their web page Click here.